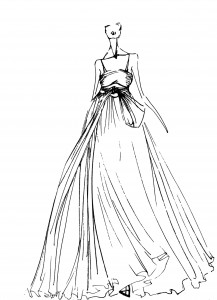 #2 Inspiration by my Country's traditional folk dress – I am from South Korea.
We call this folk dress "Han Bok".  Some people say our folk dresses never show the woman's body shape – but,  in my mind, it's not all about showing skin or trying as hard as possible to be sexy, feminine or gorgeous  ….
So, I took the idea for the inside of the top, layered it with a very long outside tied into a big bow.
Shy and feminine but sexy!  Our Han Bok can be changed to modern look!
In my mind, "sexy, gorgeous and femininity" comes from what's inside …it's all about attitude and confidence … Depends on what you think about inside…